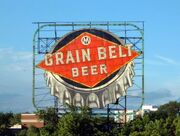 This line references the Hennepin Avenue bridge over the Mississippi River and Nicollet Island in dowtown Minneapolis. It is called the "Grain Belt bridge" due to the large, historically protected Grain Belt Beer billboard that has overlooked the bridge for over sixty years.
From the song Party Pit on the album Boys and Girls in America
Ad blocker interference detected!
Wikia is a free-to-use site that makes money from advertising. We have a modified experience for viewers using ad blockers

Wikia is not accessible if you've made further modifications. Remove the custom ad blocker rule(s) and the page will load as expected.